Tantramar Landowners Canada
"That men do not learn very much from the lessons of history is the most important of all the lessons of history."-Aldous Huxley, author of 'Brave New World'
Sunday, 22 September 2019
Children—notably Nordic white girls with braids and red cheeks—were often used in Nazi propaganda. An old Goebbels technique! Looks like today's progressive Left is still learning its game from an earlier Left in the 1930s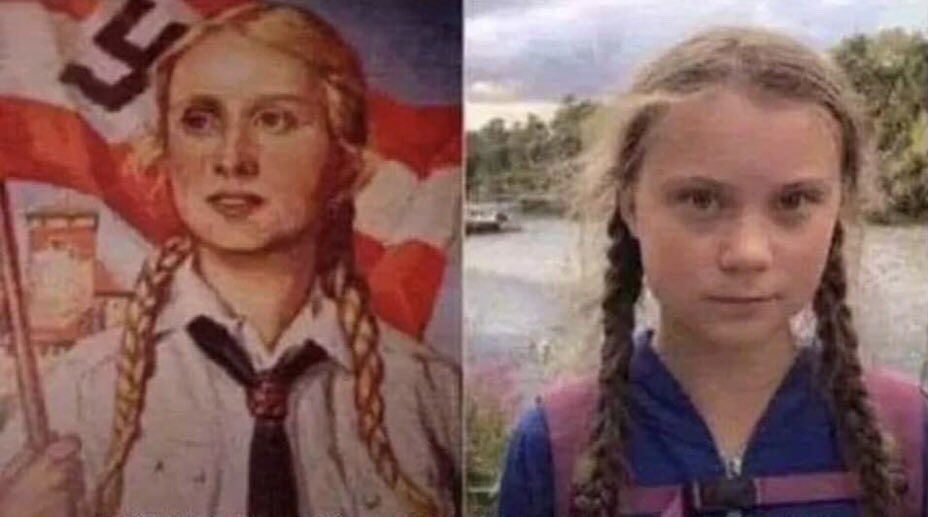 1,013 replies
2,548 retweets
5,319 likes
Posted by

TLA blogger
at 5:39 pm
No comments:

Saturday, 21 September 2019
TOQ Live -
http://dailykenn.com/
--18 of 20 black males arrested after brutal black-on-white attacks in Minneapolis have been charged. Security video cameras captured the attacks.
The media was careful not to mention the racial dimension of the attacks.
The arrests were made after videos went viral on the Internet. Cultural Marxists have been vigilant in purging the Internet of videos that depict black-on-white violence, apparently because it contradicts the false narrative that blacks are the perennial victims of white oppression.
Such horrific racial attacks explain why some parts of the country imposed Jim Crow laws: To protect white victims from black violence. It also explains why Oregon banned Negroes from its jurisdiction in 1838
From
https://minnesota.cbslocal.com/
Twenty people arrested, 18 of them now charged — all connected to brutal robberies in downtown Minneapolis.
The attacks were caught on surveillance video, taking place in August. Police say groups of people would target one person, assault them, and often to take their cellphone and wallet. The 18 suspects range in age from 15 to 27.
Walking alone is all part of Sneh Bhakta's commute in downtown Minneapolis.
"It does make me feel singled out because all the time I am alone," Bhakta said. "And like when I commute at 6 in the morning, I am by myself, at the train station I'm alone."
His concerns grew upon seeing the disturbing robberies caught on tape, occurring near the places he walks. At about 4 a.m. on August 17, at the intersection of 5th Street and Hennepin Avenue, a man stands by himself while looking down at his phone. Slowly but surely, people approach him to talk. Eventually he is surrounded, beaten and left unconscious — all so the thieves could take his phone and wallet.
A few weeks earlier outside Target Field, another group targets a man who is alone in broad daylight. They attack him, and even ride a bike over his body — all to steal his belongings.
Police said during a three-week stretch in August, 48 robberies were reported in downtown with 23 happening in one week.
From January 1 to August 26 in 2018, police said there were 156 robberies downtown. During that same span in 2019 there were 240 — an increase of 53.8%.
Posted by

TLA blogger
at 6:29 pm
No comments:

Posted by

TLA blogger
at 6:21 pm
No comments:

Adam Green, Know More News with indie reporter Whitney Webb...
discussing the mass shootings and intelligence surveillance 911 infrastructure
BREAKING!!! Liberals announce election policy of a complete ban on "assault style rifles" with buy-backs and confiscation and allow cities to ban handguns.
NO plan to tackle actual crime
35 replies
108 retweets
172 likes
Posted by

TLA blogger
at 4:37 pm
No comments:

Speaker Ann Bressington, Australian, opposes UN Agenda 21/Agenda 2030, former Legislative Council Member, health advocate, and mother of five,
Posted by

TLA blogger
at 4:35 pm
No comments:

The Secret Teachings of All Ages by Manly P. Hall
Morals and Dogma by Albert Pike
The Androgynous Alchemical Agenda
The Secrets of the Phoenix
.... and more!
Democracy can no longer be denied: Congress must make Washington, DC the 51st state.
Hundreds of thousands of Washingtonians deserve the same representation as every other citizen.
#DCStatehood
Posted by

TLA blogger
at 3:56 pm
No comments: